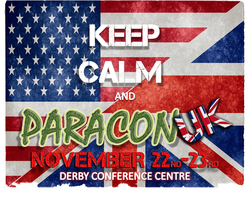 Paracon UK was the first Paranormal Convention in the UK and it certainly didnt dissapoint.

Our team was at the event as well as many other teams from around the UK

Many well known names in the paranormal field was also there such as Brian J Cano from Haunted Collector/Scared TV, Amy Goodwin sister of Ghost adventures member Aaron Goodwin & Carmen Reed the real life mum behind the film Haunting in Connetticut.

This event was a truly big stepping stone for the paranormal community in the UK due to there being no other event of its kind.

Our team supports Para-Unity and this event certainly brought unity together amongst teams and other fellow members in the field including other types of paranormal topics.

Our team cannot wait for Paracon UK 2015 and we wish to Thank Matt & his team for a truly successful event.

See you @ Paracon 2015!!!!!!